Our horses are the most important part of our lesson program! Every horse we ride teaches us something, and all of ours are great assistant trainers and are worth their weight in gold! Take a moment to learn about each of them.
Billy – 2014 chestnut 15h Arabian/QH gelding
Show Name: Rebel Yell
Billy was adopted through the Equine Rescue League. He is a super smooth pony that is figuring out jumping. He has already been a nice addition to the Intermediate and Advanced lesson program!
Branson – 2009 bay 15.1h Arbian/QH gelding
Show Name: Third Time's The Charm
Branson belongs to Sydney. These two are really starting to figure each other out!
Buddy – 2003 bay roan 16h Percheron/QH gelding
Show Name: Be My Buddy
Buddy is a big boy! Not real tall, but really thick. He's a sweet boy that has a super comfy trot and canter. He is popular in all of our lessons and especially on bareback days at camp! Buddy is half leased by Karsyn.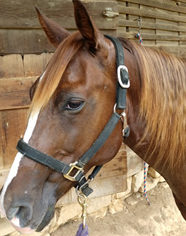 Chili – 2006 liver chestnut 15.1h ApHC mare
Registered Name: Zip 'Er Up
Chili is a very stout built horse that is used in our beginner and lower intermediate lessons. Her trot and canter are both pretty smooth and she jumps small fences.
Chumley – 2002 bay leopard 14.3h Appaloosa gelding
Chumley is a super friendly guy that is coming back from a 3 year vacation at his previous home. He tries really hard and is pretty comfortable! Chumley is half leased by Paige.
Cleo – 2002 black grade QH mare
Cleo is a wonderful addition to our lesson program! She's really sweet and seems pretty unflappable. Went right into lessons and camp without a problem.
Copper – 1996 chestnut APHA gelding
Copper loves trail riding and is often chosen for parades and off-the-farm trail rides because of his brave attitude.
Daisy – 1997ish grey 14h pony mare
Dasiy came from a hunter/jumper farm in Aldie, VA. She is super smooth and a favorite among the WTC students!
Dell – 1998 15.3h chestnut AQHA gelding
Dell is Shana's horse. He came from Hunter's Edge Horse Farm and is a great lesson horse here as well. He is perfect for our walk/trotters!
Dusty – 1988 chestnut 14.1h AQHA mare
Registered Name: Skippin In Saw Dust
Dusty has the smoothest trot, for a non-gaited horse. She's very sweet and is found in most beginner walk/trot lessons. She's "practically perfect in every way" (which earned her the nickname of Mary Poppins).
Finn – 2002 chestnut 14.3h QH cross gelding
Show Name: Mischief Managed
Finn has very smooth gaits for a large pony/small horse. Aside from his less than perfect ground manners, he is a great lesson horse! Finn is half leased by Kathryn.
Gandalf – 1988 grey 16.2h DWB/Selle Francais gelding
Gandalf is a W/T horse now that he's in his semi-retirement days, but before coming to Keezlenutten he showed on the "A" circuit in the working hunter division.
Ginger – 2001 chestnut 14.1h QH/Welsh mare
Show Name: Ginger Snap
Ginger has VERY smooth gaits and is great for all levels of riders. Her steering isn't always the best and she can sometimes get a little quick, but everyone seems to like riding her! Doesn't hurt that she's super comfy.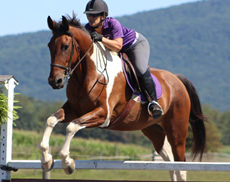 Gus – 2011 16h Draft/Paint/Saddlebred (?!?! who knows) gelding
Show Name: With Gusto
Gus has a GREAT personality and tries super hard to figure out what you want to do. He's very smooth both at the canter and over jumps.
Harley – 2010 15.3 ApHC gelding
Show Name: Small Town Boy
Harley is owned by Neah. He is a talented horse that can do all levels of lessons. Just watch him on the ground – he likes to nibble!!
Honor – 2012 dark bay 16h OTTB mare
Registered Name: Mitzi's Miniball
Show Name: On My Honor
Honor loves to jump and has started to be used in some advanced lessons.
Hopie – 2000 chestnut 16.1h AQHA gelding
Registered Name: Hopie Arwen
Hopie is a homebred boy! His gaits are great but his size is amazing! Neither his mom or dad were anywhere close to his height! He has proven to be a great intermediate lesson horse. Hopie is half leased by Ginny.
Isabella – 1995 chestnut 13.3h registered Paso Fino mare
Isabella is a very smooth gaited trail horse with lots of personality.
Jackson – 2012 red dun 15.1h grade QH gelding
Show Name: Dun Deal
Jackson belongs to Krista. He is a very level headed boy with a lovely canter. He's figuring out the jumping thing and is doing well in lessons.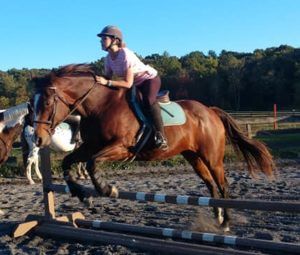 Kip – 2000 AQHA 16.1h bay Appendix gelding
Registered Name: Kick in the Pass
Kip is a nice large Appendix with super smooth gaits. His friendly demeanor and super cute face, plus his really smooth gaits, have made him a favorite at the barn, ESPECIALLY with my adult students! He has a pretty nice jump too. Just don't look at him below the knees LOL, those are some seriously turned out feet!
Kodi – 2002 ApHC 15.1h gelding
Registered Name: Kodiak Cassanova
Kodi is a lazy boy that teaches riders to be assertive and how to use a driving seat aid (or he doesn't move…). But he is very capable once you get him going. He's great for teaching people to jump since he's so quiet and honest to the fences! Kodi is half leased by Katy.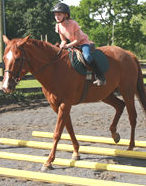 Ladybug – 2007 APHA 15.1h chestnut mare
Registerd Name: WOR Sparkling Image
Ladybug is a very sweet mare that is wonderful for walk/trot/individual canter lessons. She is super smooth and easy to steer.
Luna – 2006 15h warmblood cross mare
Luna is Kelly's horse. She's had a variety of careers in her past, including trail riding out West. She is taking well to lesson horse life now though!
Moe – 2008 Palomino (possibly with the rabicano gene) QH gelding
Moe is the cutest little guy you ever did see! He belongs to Adi. He's been a great addition to the lesson barn and lives with Daisy, his girlfriend 🙂
Nemo – 2003 Arab/TB? 15h chestnut gelding
Show Name: Just Keep Swimming
Nemo is a cute mover and jumper that belongs to Jennifer! He lives up at the trail barn.
PJ – 1998 APHA 15.1h mare
Show Name: Missed A Spot
PJ is owned by Lizz & Laurie Phillips but is being leased by the farm for lessons. She's an excellent lesson horse for all levels of riders!
Polly – 2003 black QH cross (maybe some TB?) 14.1h mare
Show Name: Polly Wolly Doodle
We've had Polly at our farm off and on since she was about 4. Polly has grown up a lot, but is still quite the little speed demon, jumping machine.
Sage – 1999 bay 14.3h Paso Fino gelding
Sage is Margaret's trail horse. He is very calm and easy going with a super smooth gait.
Scout – 2015 bay/white14.2h paint cross mare
Scout is Cailyn's horse. She's very young so Danielle and Nicole are riding her quite a bit right now, but she is very quiet and shows a lot of promise!
Smidge – 2011 bay 14.2h QH cross mare
Show Name: Just A Smidge
Smidge has great ground manners and is super smooth under saddle. We are very unsure of what she has done in the past, but she seems to be a willing and very capable jumper. She is half-leased by Hannah.
Street Car – 1995 grey 15.2h SB/TB gelding
Street Car is owned by Danielle, but used in the lesson program. He is a fun horse that definitely loves to go. While his ground manners leave a lot to be desired, he makes up for it with the most honesty to the fences around. He is half leased by Kylie.
Sully – 2013 brown 16.2h WB/Paint gelding
Sully is owned by Danielle. He has had quite a few setbacks in his short life and he is currently coming back into work, but showing a lot of promise.
Timmy – 1996 chestnut 15h QH/TWH/App gelding
Show Name: Tiny Tim
Timmy is full of personality! Unfortunately, due to some vision changes, Timmy has been retired to live out his days at the trail barn.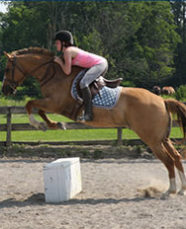 Titus – 2009 dun 14.3h Paint gelding
Show Name: Titus
Titus belongs to Madi. He is a great little guy with a pretty amazing jump! He's pretty popular since he's so cute, but also because he's such a good boy to ride (even for little kids!). You need to have sticky legs if he thinks the jump is scary though – his knees come up to his eyeballs!!
Tye – 2004 chestnut 16.1h QHx gelding
Show Name: Bow Tye
Tye is Kailee's horse. He lives up at the trail barn.